NO SCHOOL MARCH 20 - MARCH 24 - Spring Break
NO SCHOOL - FRIDAY, APRIL 14
Last Day of School - Early Release, Wednesday May 24
8th Grade Celebration
The 2015 8th Grade Celebration is scheduled for May 23rd at 8:00am in the Performing Arts Center at the High School. This event is open to parents, grandparents, aunts and uncles, etc. We hope you can make it to celebrate your student!
MAP Testing Dates
The students will be MAP testing in April. Testing will start right away in the morning, please be sure students are present, on time, well rested and have eaten breakfast. Please schedule appointments for later in the day as we will not be able to interrupt classrooms. The schedule is as shown:
Team 6A - April 5 & 6
Team 6B - April 11 & 12
Team 7A - April 11 & 12
Team 7B - April 18 & 19
Team 8A - April 18 - April 21
Team 8B - April 24 - April 27
Any questions, please contact your student's TA teacher.
Water Donations for MAP Testing
Kids who drink a glass of water before taking a test fare up to one third better than those who don't. SMS begins MAP testing April 5th. We are accepting donations of bottled water to be handed out to each student during MAP testing. Please bring any donations to the Middle School office. Thank you!
Prize Donations for MAP Testing
We are looking for donations to use as incentives for students to do their best on the tests.The kids names will be put into a drawing for the prizes. Examples of prizes include gift cards, stress balls, mini balls, games, gum & candy, headphones, earbuds, sunglasses, tickets to sporting events and much more . If you are willing to donate items please drop them off at the Middle School Office. If you have questions, please contact Angie Viebrock at
viebroca@smithville.k12.mo.us
.
Thank you so much!
Kiwanis Middle School Dance - March 31st
The Kiwanis Club is having a dance Friday, March 31st from 7:00-10:00 pm at the American Legion on 92 Hwy! Cost is $5. Come and have a great time with your friends! Click
HERE
for more info!
2017-2018 Class Registrations
7th Grade (entering 8th grade next year) -
6th Grade (entering 7th grade next year) -
Congratulations!
Smithville Middle School Student Council won 1st place in the state of Missouri for Special Olympic fundraising!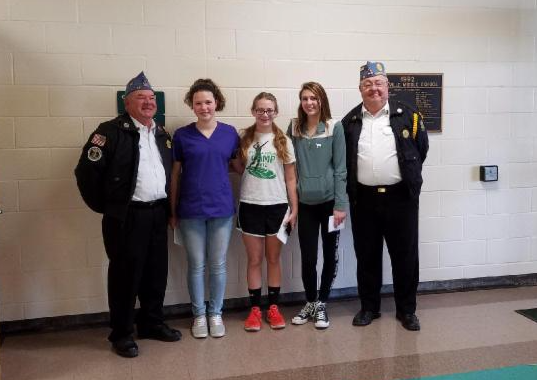 Congratulations!
Congratulations to the winners of the Sons of the American Legion's Citizenship Essay contest. The 8th grade students wrote an essay on "What The Pledge of Allegiance Means to Me". Congratulations to Marah Sperry (3rd), Rhiannon Maynes (1st), and Riley Foster (2nd). They did a great job on their essays!
Attention 8th Grade
SMITHVILLE DAZZLERS DANCE TEAM AUDITIONS
Dancers interested in auditioning for the 2017-2018 Dazzlers Dance team must attend an informational meeting with a parent April 18 @ 6:00pm in the High School cafeteria. Dancers must have a current physical on file with the school in order to audition.
Required clinics will be April 25, 26, 27 from 2:45-4:00 in the High School Auxiliary Gym. Final Auditions will be Friday, April 28th from 4:00-7:00pm. Questions? Email Coach Stephanie Simon: simons@smithville.k12.mo.us We are excited to meet you! See you April 18th!
Tutoring Announcement
Mrs Hedrick will no longer have Wednesday after school tutoring. Students may see her for help during TA on Mondays, Tuesdays and Thursdays.
MSPG School Supplies
The MSPG will NOT be doing pre-order sales of school supplies this year.
Sock and Underwear Drive
Smithville Middle School Student Council will be holding a Sock and Underwear Drive among TAs during the week of March 27-31. Students are encouraged to bring in new packages of socks and underwear in sizes from 4T to adult. These will be taken to the Warrior Closet to benefit Smithville students.
TAs will have a competition to see which TA can donate the most new sock and underwear packages for the Warrior Closet. The winning TAs will receive a pizza party.
Congratulations!
Congratulations to the 118 students who have qualified to attend the Reading Celebration! The Reading Celebration will take place on Thursday, April 13. Please contact Mrs. Guess at guessl@smithville.k12.mo.us for more info.
Attention 6th and 7th Grade Parents!
If your student hasn't already had their Tdap and Meningitis shots for 8th grade, this would be a good chance to get them. Please turn in a record when done to Cindy Lessenden at lessendc@smithville.k12.mo.us.

8th Grade Celebration - Have you turned in your photos?
We need two pictures. These pictures can be baby/young, by yourself, with family, friends, pet, doing an activity such as playing an instrument/sport. No collages please. Email photos to kruegerc
@smithville.k12.mo.us
.
Sending a digital copy to her would be the easiest, however, you may also bring them in to be scanned if necessary. Please turn in by April 13th. Thanks for your help.
6th Grade B Team Pride Projects
Our 6th Grade B Team has been working on projects for things they feel passionate about. Click
HERE
to see some of these fantastic projects!
2017-2018 School Calendar
Click HERE for the school calendar for next year!

Being Bullied? Know Someone Who Is?
You are not alone. There is something you can do to help! Click HERE for more information. For a quick link to the form to report any bullying issues, click HERE!
Employee Recognition
Our employees are dedicated, and go above and beyond to ensure we are successful here in the Smithville School District. Tradition of Excellence awards is presented to employees each month. Nominate an employee by completing the following nomination form: Â Tradition of Excellence Nomination Form.
Click HERE for the Middle School Calendar!