Happy 2017
We hope everyone enjoyed their holiday break, and we welcome you back to school. Report cards for second quarter progress will be sent home on Thursday, January 12th. Please remember there is no school on January 13th due to teacher meetings and January 14th due to Martin Luther King, Jr.'s holiday.
PBIS Review and Focus Area
As students return this week, they reviewed and practiced school-wide expectations. This month our PBIS focus area is the cafeteria. Classes are identifying individual goals in this setting and working to earn golden spoons to receive class rewards, such as eating together on the stage. Ask your student about the goal their class set to show positive behavior in the cafeteria.
PES Movie Night
The PES is hosting a movie night on Friday, January 20th from 4-5:30 PM. Students are invited to stay after school and watch The Secret Life of Pets. The cost is $5 and includes a small water and popcorn with admission. Profits from movie nights will be used to purchase additional student technology. If your student is interested in attending, please complete and return the permission slip that is being sent home with your child on Friday, January 6th.
School Calendar Adjustment
As a result of the snow day on Thursday, January 5, 2017, the current last day of school is planned for Wednesday, May 24th with an early dismissal for students.
Outdoor Recess in the Cold Months
When deciding if recess will be held outdoors or indoors, staff consults the Weather Channel app. If the "real feel" temperature at the time of recess is 20 degrees or less, recess will be held indoors. Physical activity optimizes brain performance, improves health and wellness, and increases focus. When it is safe for students to take a break outdoors, we want them to have this opportunity. Please make sure students are prepared for outdoor recess during these cold months with winter coats, hats, gloves, and scarves.
Naming the Elementary Schools
With the construction of the third elementary school, we need to name the new elementary school and we need to rename Smithville Primary Elementary School and Smithville Upper Elementary School.
We would like your help in that process. Click the link below to submit ideas for the building names. You can make a suggestion for a specific building or you can make a suggestion that could be used at any of the buildings. Please include an explanation for why this name should be considered, if you would like.
Early in 2017, we will convene a committee of patrons and staff to consider all suggestions, narrow the selection, and send some options to the Board of Education so that the Board can select the names. If you would like to be on this committee, please enter your name in the survey available by clicking the link below.
Thank you for your help! Please call the district office at 532-0406 if you have any questions about this process. There will be many more opportunities to participate in projects related to our schools in the future.
The Smithville School District School Names survey will close Sunday, January 15, 2017.
Staff Recognition Program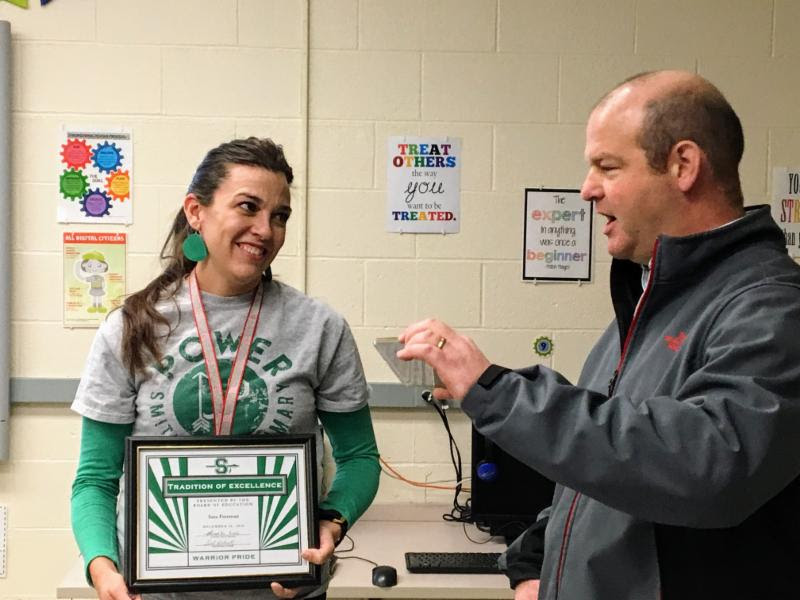 Our employees are dedicated, and go above and beyond to ensure we are successful here in the Smithville School District. This school year an employee recognition program was launched to recognize our employees for all that they do for our students, and for one another. Tradition of Excellence awards will be presented to employees each month.
Nominate an employee by completing the following nomination form:
Tradition of Excellence Nomination Form
News from the Warriors' Workshop ...
Attention First Grade: Save your shoeboxes!
First grade will begin working on an animal unit that will include making an animal habitat diorama. So if you received a new pair of shoes over the holidays, please save the box! More details to come and I will let you know when to send them in. Thanks for your help!
I wonder...
Have you ever wondered how icicles are formed? Or how far a sneeze travels? Life is full of wonder!
Wonderopolis.org
is a great site that captures and collects all our wonderings. Check it out with your kids to discover answers to all of their questions and learn something new.
We will begin exploring our wonderings this semester with a wonder wall in between the library and the workshop. Stop by and check it out!
Happy Wondering!
Sara Freeman
Upcoming Events at Smithville Primary Elementary: