Thank you!
Thank you to our Primary families for your generosity towards the food drive! The school goal was 2500 items, and with your help we were able to collect over 4600 items! A friendly competition was held between the classes at each grade level with the winning classes receiving a hot cocoa and movie party. The classes bringing the most items were Mrs. Mac's kindergarten class, Mrs. Ruth's first grade class, and Mrs. Lethcoe's second grade class.
The season for giving continues! Smithville Primary is currently holding a toy drive that will run through Wednesday, December 7th. Toys collected will be donated to the toy store through Grace Church to help local families in need this holiday. If you can help, please send a new toy to school with your child.
Subscribe to Receive District Text
Reminders and Notifications
Text Reminders & Notifications: Our school district currently utilizes the SchoolMessenger system to deliver messages via email and voice. We will begin to utilize the SchoolMessenger system to deliver text messages with important information about events, school closing and safety alerts. You can participate in this service by sending a text message of "Y" or "Yes" to our school district's short code number, 67587.
Second Step Bully Prevention Unit
In the month of December, all classes will continue the Second Step bully prevention unit. Through this unit, students are learning the following:
Following the school rules helps everyone learn and have fun together. It also helps everyone feel safe and respected.
When we are able to recognize what a bully is and is not, it helps students avoid bullying others.
It is every students' job to keep themselves and others safe by reporting bullying.
Students can stand up for themselves and be assertive. Students can get help and help themselves. Doing both is the best way to handle bullying.
Bystanders are people who see or know about bullying happening to others. There are things bystanders can do to help stop bullying. Bystanders can stand up for the person being bullied, report bullying to a caring adult, and include others by inviting them to join in their safe activity.
A community meeting was held this week with a presenter from Synergy sharing information about the topic of bullying and district administration sharing information about the new laws impacting reports and investigations of alleged bullying in schools. The Primary Elementary has a bully report on the main school website that can be completed by anyone wishing to report bully behavior. The bully report can be found
here
.
Illusionist, Mr. Myrick, Visits the Primary
Smithville PTO celebrated the success of the Clubs Choice Fundraiser by allowing all students to enjoy an assembly with world-famous illusionist, Charlie Myrick. A great "I can!" message was shared through Mr. Myrick's life story. He reiterated the message of not allowing bullying at our school and showing kindness to others through his magic performance.
I'm Not Scared...I'm Prepared
The students and staff are preparing for an intruder drill on December 9th. Each classroom will revisit lessons in the storybook by Julia Cook to learn the acronym ALICE to prepare for the drill. The acronym stands for Alert, Lock down, Inform, Counter, and Evacuate. The goal in preparing for and practicing emergency drills is to ensure students and staff are equipped for any incident that may arise. If you have questions about this drill, please feel free to contact Mrs. Hawkins at (816)532-0589.
Special Visitor this Month
As an incentive to continue the great attendance through the month of December, a special visitor has made arrangements to visit the classes at Smithville Primary on the morning of Wednesday, December 21st. Last month our attendace fell just short of the goal of 96% with attendance at 95.2%. It is important students are in attendance everyday! Benefits of good attendance include:
Students with good attendance records generally achieve higher grades and enjoy school more.
Having a good education will help to give your child the best possible start in life.
Regular school attendance patterns encourage the development of other responsible patterns of behavior.
Students who develop an "on the job" attitude toward school will be more desirable to future employers.
Art news!
Kindergarten students are creating winter landscapes, singing about foreground, middle ground, and background. Ask your artists the tricks about making objects look near and far.
First grade students are creating mitten monoprints. They should be able to tell you what monoprints are and describe how to make them.
Second grade students are finally glazing their castles. The kiln needed some maintenance so it slowed us down a bit. Most second grade classes continued ahead working on Native American Art. We are comparing the difference between art made by the Woodland Indians and art made by the Plains Indians.
News from the Warriors Workshop
Free Hour of Code Workshops!
Computer Science Education Week is December 5 to 11. You can sign up for free Hour of Code workshops throughout the week at your local Apple Store or host your own event with Swift Playgrounds. It's a great way to start learning and writing code. Visit:
http://www.apple.com/retail/code/
for more information.
Thanksgiving Build Challenges
Students just completed building challenges to celebrate the Thanksgiving holiday. Kindergarten built turkey traps to save Thanksgiving dinner. First grade built the Mayflower that would float and carry additional weight. Our record was 84 marbles! Second grade built a new Thanksgiving table out of only 5 sheets of paper and 6 inches of tape. The record was 45 chapter books plus 2 "dessert" containers!
Technology
This month Kindergarten will continue to work on letter location on the keyboard. First grade will be working on creating documents and formatting text. Second grade will finish up touch keyboarding.
Supplies
Thank you to all who have continued to bring in supplies! We thank you for supporting our learning and creativity!
, instagram: or blog:
Wishing all PES students and their families a very Happy Holidays!
-Sara Freeman
Music Notes from Mr. Espey
December 13th is upon us....the Second Grade Night of Fine Arts is less than two weeks away! Parents, please have your child at the Performing Arts Center at Smithville High School, in their costumes, and on stage to meet their teacher no later than 6:50. This night will have an art gallery set up in the main hall, a handbell performance, and the musical, "Elfis and the Frozen Princess." The program will start at 7:00 and last until 7:30! I'm VERY excited about December 13th. See you there!
News from the Library
The support for this year's book fair was overwhelming! Just over $2100 was raised for the library this year. These funds are earmarked to pay for author visits, such as the upcoming visit from Bridget Heos, author of Mustache Baby as well as several non-fiction books. A big thank you to all who helped out at the fair, especially Kylee Glaser, our book fair chairperson. Our Grand Event and Curriculum nights were well-attended. Thank you, Smithville Primary family!
Here are some of the library skills that each grade level has learned thus far this year:
Kindergarteners:
Taught and reviewed how to take proper care of library books
Learned about the different areas of the library and the type of books in each section - picture books, easy readers (fiction and non-fiction), fairytales
Introduced to the Missouri Building Block Picture Book nominees. We will be voting for our favorites in December.
First Graders:
Reviewed proper care of library books
Introduced to and will be voting on this year's Missouri Show Me Nominees
Learned the difference between fiction and non-fiction books; were read examples of each and encouraged to check them out.
Second Graders:
Introduced to the Dewey Areas in our library
Introduced to three different types of fiction-fantasy, realistic, and historical, and discussed examples of each as we read the Missouri Show Me Nominees for 2016-2017.
Taught how to use the online catalog to find the call numbers used to locate books, then practiced finding fiction and nonfiction titles on their own.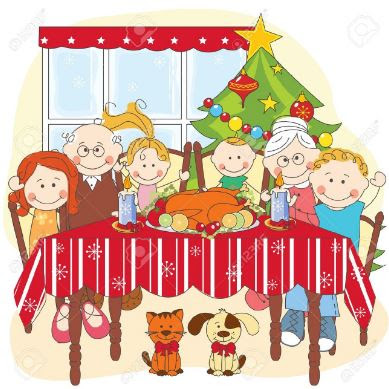 The Christmas feast is just around the corner!
Wednesday, December 14th will be our Christmas feast of chicken patty or baked ham. There will be NO salad bar that day.
If you are planning to have lunch with your student that day, please contact us. Let us know the classroom you'll be eating with, & if
you would like a chicken patty or baked ham.You can call
We hope to see you then!
Thank you,
Smithville Primary Lunch Ladies
Upcoming Events at Smithville Primary Elementary: